Logo Design for Doachie McHugh's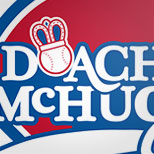 A bar. An Irish bar. An Irish bar that loves the Phillies.
An Irish bar that loves the Phillies and needs a logo?
Talk about a dream job! The combination of those four magical things led to the development of the Doachie McHugh's bar logo. Let's walk through the process of creating a logo from start to finish to get a feel for the entire creative process from initial concept sketch to finished logo.
1. Concept
The concept is an Irish bar who loves the Philadelphia Phillies. Simple enough. Let's get started with some rough sketches. This hand drawn step is very important to get a lot of ideas out quickly and to get an idea of what looks best on paper before you sit down at a computer. The more the merrier, so here's a sample of the concepts I sketched out for Doachie McHugh's.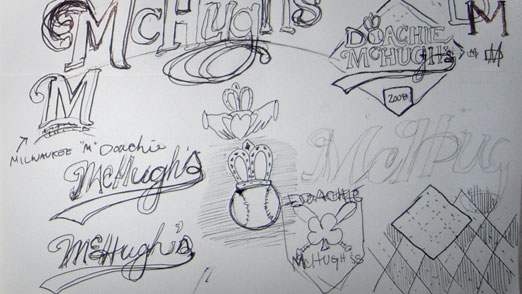 You can see the traditional Irish claddagh in the sketch above and the eventual Phillie-esque shapes start to come alive .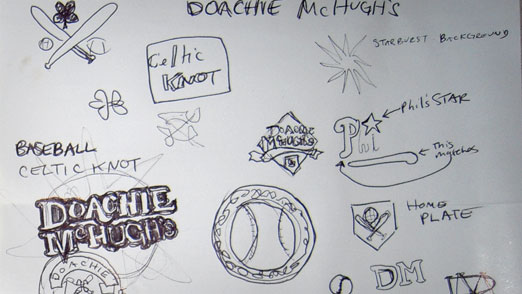 Some of the type and outlining is starting to come alive here.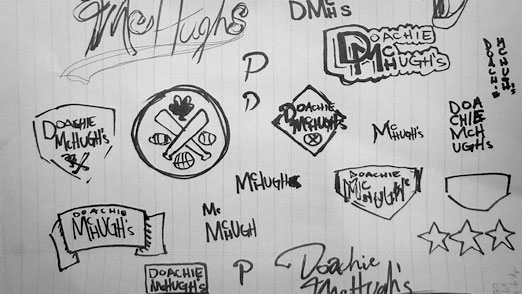 Some explorations of the home plate shape to outline the logo and incorporate the baseball theme.
2. Sketches
After seeing some initial thoughts come to life and sharing them with the client, it's time to give the best concepts a little more thought. At this point I like to move from pencil/pen/sharpie into pencil/color marker mock up. The crown from the claddagh was chosen along with the baseball for the letter "O" and a base for the outlining shape.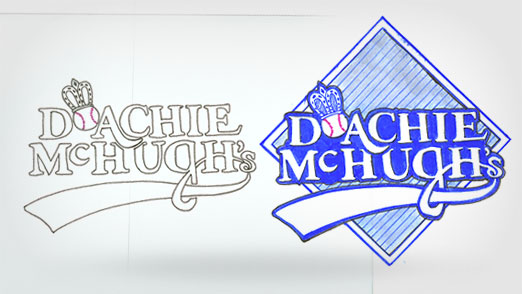 3. Mock Up
After sharing the color markup sketches with the client some final decisions are made. Make it more like the Phillies logo, use the rounded top home plate shape and add some more color, like blue and red!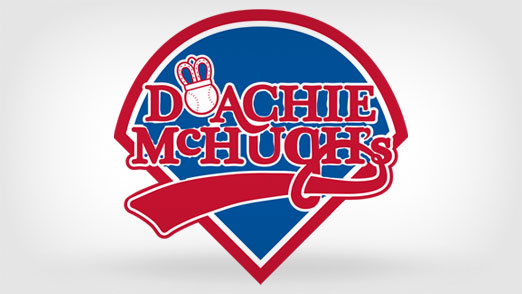 4. Final
Some final color selections have been made and we have a completed logo. This is the point where I take the sketches and scans and move them into Photoshop and then later Illustrator to add the polish.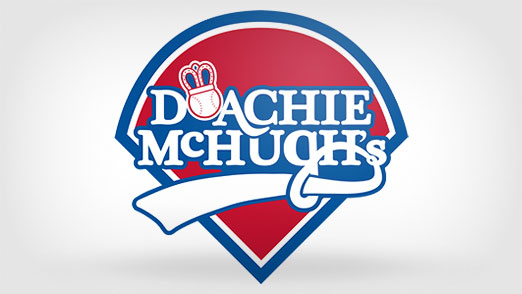 5.Conclusion
You can see how important it is to work through this process from sketch to completion based on the final rendering. I'll readily admit that I don't do this on every project due to time or budget… but I'm always much more satisfied with results when I do!