How To Fix CS3 Licensing Has Stopped Working
Originally posted November 29, 2009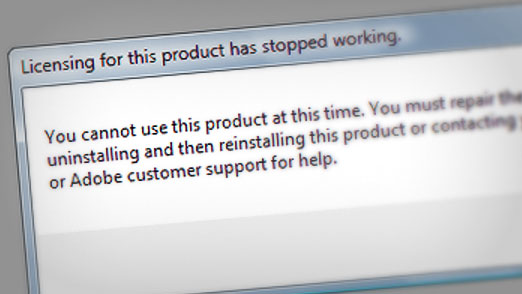 You Cannot Use this Product at this Time.
This has got to be the absolutely WORST thing anyone using Adobe Creative Suite products can see on their machine when they attempt to start up one of their programs. And more often than not, it happens to you at the WORST time. This has happened to me on two occasions with Adobe CS3 Master Collection. The first time it was partially fixed with a reinstall. I say partially because I still couldn't use any of the video editing programs in the Master Collection (I previously upgraded from Design Premium) but since I didn't need them at the time it was acceptable. The second  time around, however, a reinstall was not successful and neither were many other simple fixes suggested by both Adobe and other online resources. The FlexNet Services restart option did nothing for more as it was already running. The Adobe License Recovery program also failed at getting me back up and running.
Don't worry, you CAN fix this!
So I finally found the solution over on RaisedByTurtles.org by Tom Lambert. In his Fix CS3 post Uninstall a Service in Vista, Repair Adobe CS3 and Clean Up the Registry both he and a Commenter Named JL provide detailed instructions as well as where to get the things you'll need.
It's not that hard, but it is time consuming. Also, it will wipe EVERYTHING Adobe off of your machine so only use this as a last ditch effort. But I'm guessing if your in a situation like me and you have no choice you'll try anything. The one suggestion I do have is save anything you don't want to recreate like color swatches, actions, settings, etc. It will save you some time once you have successfully reinstalled your Creative Suite software.
Here's what I did to get Adobe Creative Suite 3 Master Collection working after I received the Licensing for this product has stopped working error message.
Step-by-Step Instructions
1. Uninstall using the CS3  disc. Reboot.
2.Manually remove any and every folder you can find labeled 'Adobe'.  Look in Users, Documents and Settings, Program Files, Roaming Profiles, etc. Reboot.
3. Download and Run the Windows Installer CleanUp Utility. Reboot.
4. Download and Run the Adobe CS3Clean Script – Level 1. Repeat.
5. Run the Adobe CS3Clean Script – Level 2. Repeat.
6. Run the Adobe CS3Clean Script – Level 3. Repeat.
7. Run the Adobe CS3Clean Script – Level 4. Repeat.
8. Reboot.
9. Run CCleaner. (If you don't have it you get it at File Hippo.com). Reboot.
10. Install Adobe Creative Suite using discs.
Presto!
So there are a few things on JL's list that I skipped and still had success. I think if you strip your machine of all things Adobe and start fresh there are only so many things left to clean up after the first few times through the cleanup script.  But this definitely worked and it also worked for a friend of mine who had the same problem with CS3 Design Premium on a Vista laptop. She actually had a slightly different problem where she couldn't even install the programs from the disc. She just kept trying to install and all it would give her was Acrobat. She also spent MULTIPLE HOURS on the phone with Adobe support and it was absolutely useless. Very poor customer service from Adobe on this issue. Thanks, Krista for helping me out with this and taking one for the team with Adobe! I just can't help feeling there should be some kind of class action lawsuit after so many documented cases of lost productivity have been documented across the web.
Good Luck!