Birthday Doodle from Google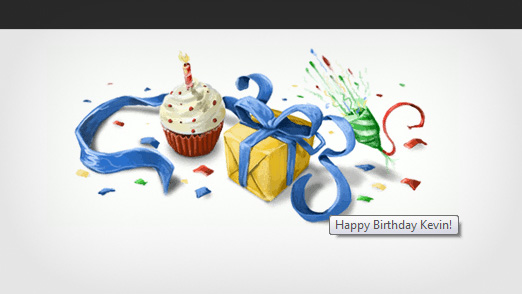 Happy Birthday Doodle from Google
Well, today is my birthday. And doesn't Google know it. To some people it may seem scary that someone, or some thing knows so much about you. But this little Google Doodle for MY birthday is such a nice little touch, I don't think anybody would mind seeing this.
It's All in the Details
The birthday doodle is really cool, but what seals the deal for me is the Alt Text. Hover over the doodle and it says "Happy Birthday Kevin!" I know it's a minor detail, an aside, something that not everyone will even notice. But it shows us two things:
Google is focused on the details of all of their projects, right down to the final execution.
The people who coded this little doodle know that there are just a handful of people who WILL notice the Alt Text and that those people (myself included) will really appreciate it. It takes extra time, extra effort, but it was able to float up the chain for someone to say yes. And it made it in.
Thank you, Googlers!